Transcend's artful clothing is bringing back the joy of dressing up


Hundreds of 5-star reviews are already in!
Note: Your closet is about to get a lot more fun!
Dressing up used to be an art - an art of expressing yourself through the clothes you wore. But with the rise of fast fashion, creative dressing has become a lost art. People are no longer as passionate about choosing their clothing and how it expresses who they are. Transcend is on a mission to bring the joy of dressing up back through its stunning color palettes, creative embroideries and joyful prints!
Since launching in 2020, Transcend has gained a loyal following of thousands of fashion lovers who are tired of cookie-cutter clothes that don't represent them. At Transcend,they believe that this is not what dressing up should be about - it should be about joy and creativity. Transcend wants to bring back the joy of creative dressing and make people proud of what they wear. They create unique pieces that speak to each individual's style and personality. Maybe this is why Transcend's fast growing community of loyal customers keep coming back for repeat purchases.
Transcend's Story
Transcend's founder, Nazia loved going shopping with her mother to the markets in India. Shopping in India is quite an experience. Nazia would go to the bazaars (an area bustling with hundreds of small businesses), pick out the fabric and trims, take it to her seamstress, give her custom measurements and then picked up the outfits in a few days. She cherished these self-designed outfits for years and could distinctly remember the story behind each whenever she wore it. Nazia was inspired by this intimate purchasing experience and at a young age learned about the different types of fabrics. Exploring the yards and yards of beautiful fabric at the markets and designing clothes for her sister was her favorite way to spend time in her childhood.
Nazia moved to United States when she was 15 years old and one of the first things she noticed was the vastly different ways that people dressed. She went from seeing creatively put together outfits in beautiful color combinations, embroideries and prints to mass produced jeans, t-shirts and sweatshirts. It was then that she decided to one day launch a brand that would make high quality embroideries, prints and colors accessible to customers in North America.
The hundreds of customer reviews on Transcend's website are testament that this brand is fulfilling a market void for those who want to express themselves through their clothes.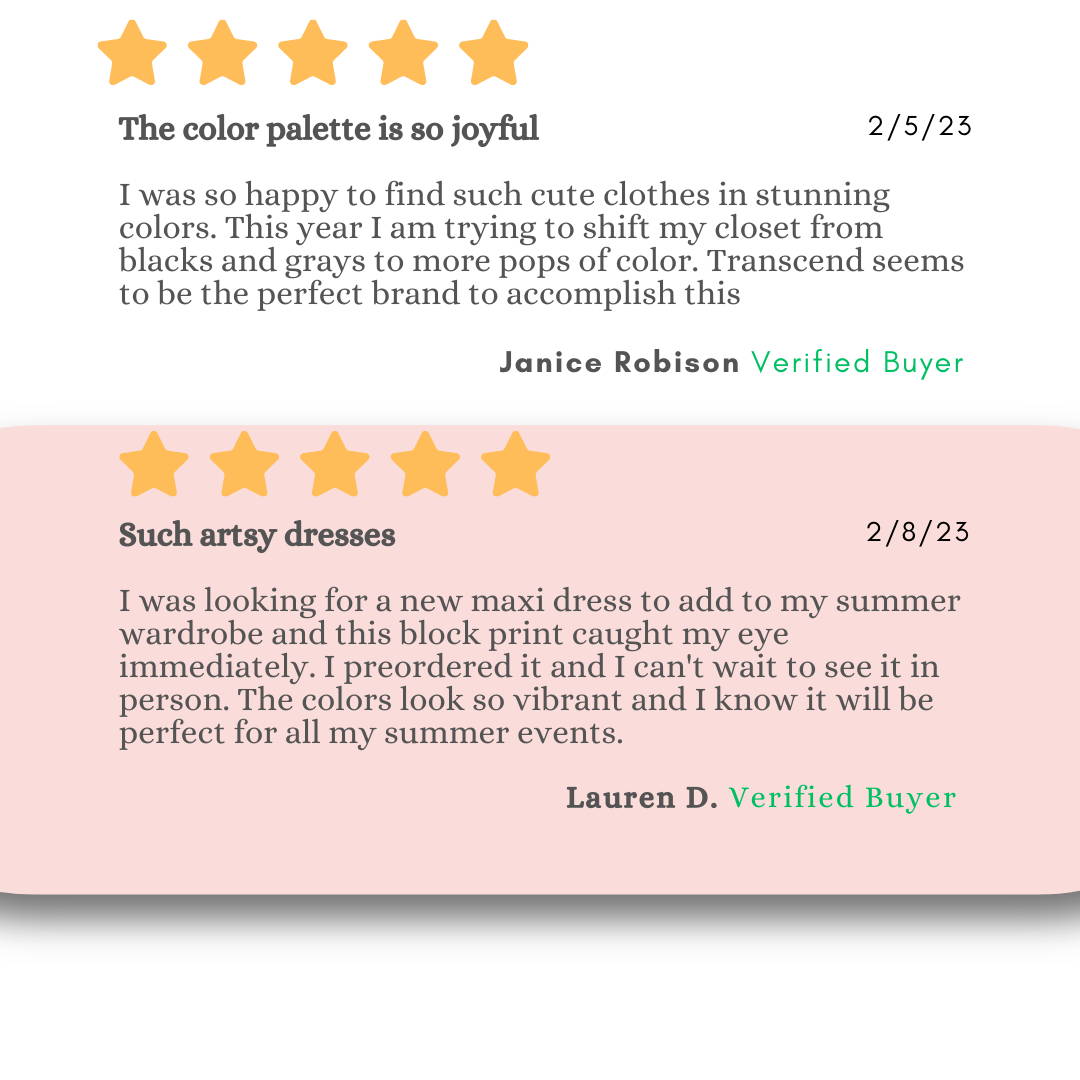 Within the first two years since Transcend launched, the brand has been featured in British Vogue, showcased at New York Fashion Week, and amassed a loyal following of customers. Below are some of the game changing benefits that make Transcend a fast growing brand in the United States.
Wave goodbye to dull, boring fashion - Transcend is here!
Transcend's cheerful community of thousands has made us a fast-growing brand since we arrived in 2020. We're dedicated to putting joy back into creative dressing and helping people express themselves through their wardrobe. With their unique pieces, you can feel proud wearing clothes tailored perfectly for your style and personality – no cookie cutters allowed! Join the now rapidly growing crew who keep coming back again and again…it's time to transcend ordinary fashion with something extraordinary!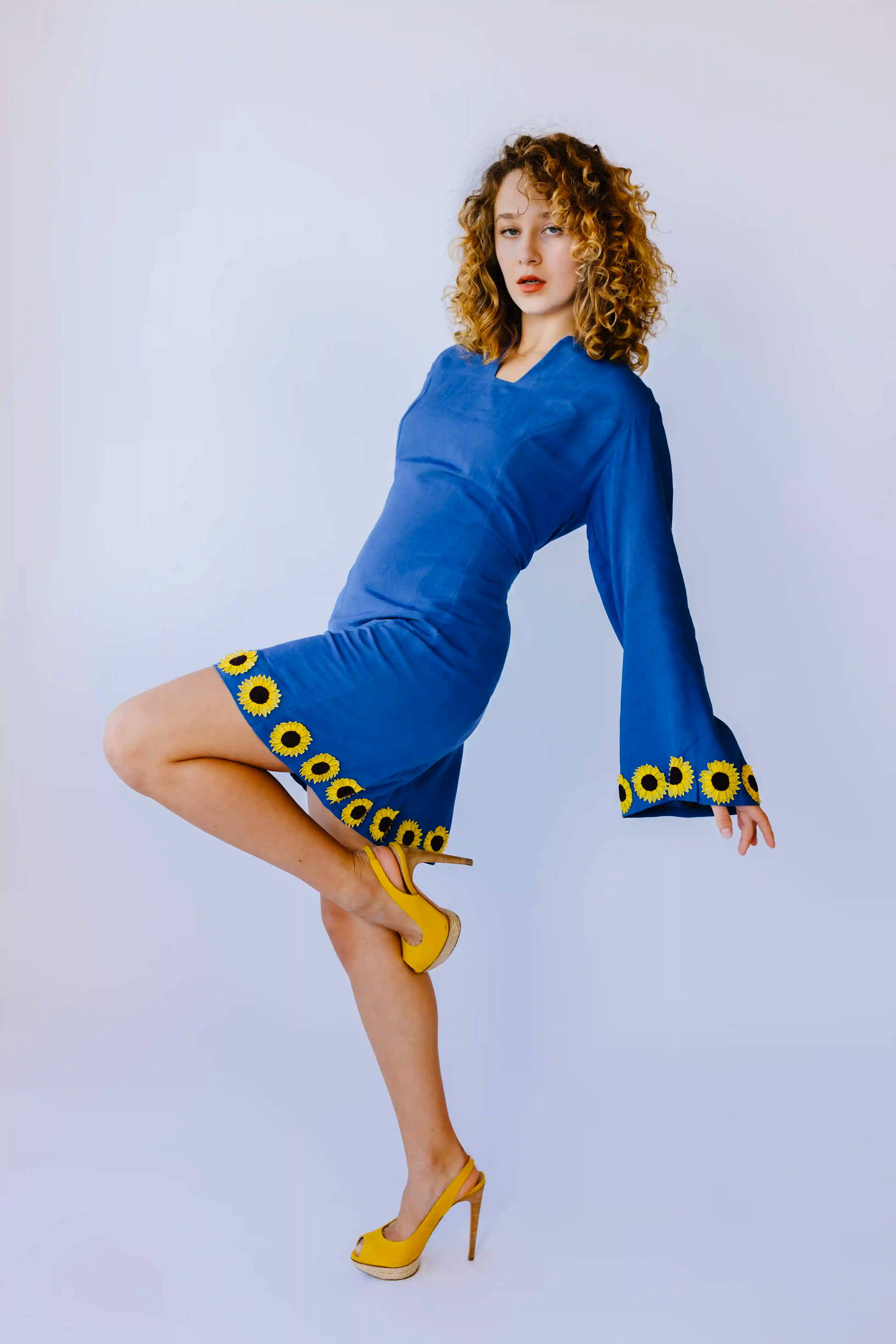 Comfort and Functionality are key design tenets of Transcend's pieces

At Transcend, you can look good and live easy - with pockets in all of their dresses! Enjoy the fuss-free silhouettes that make life simpler. Go ahead - treat yourself to some effortless chic that you'll never want to take off!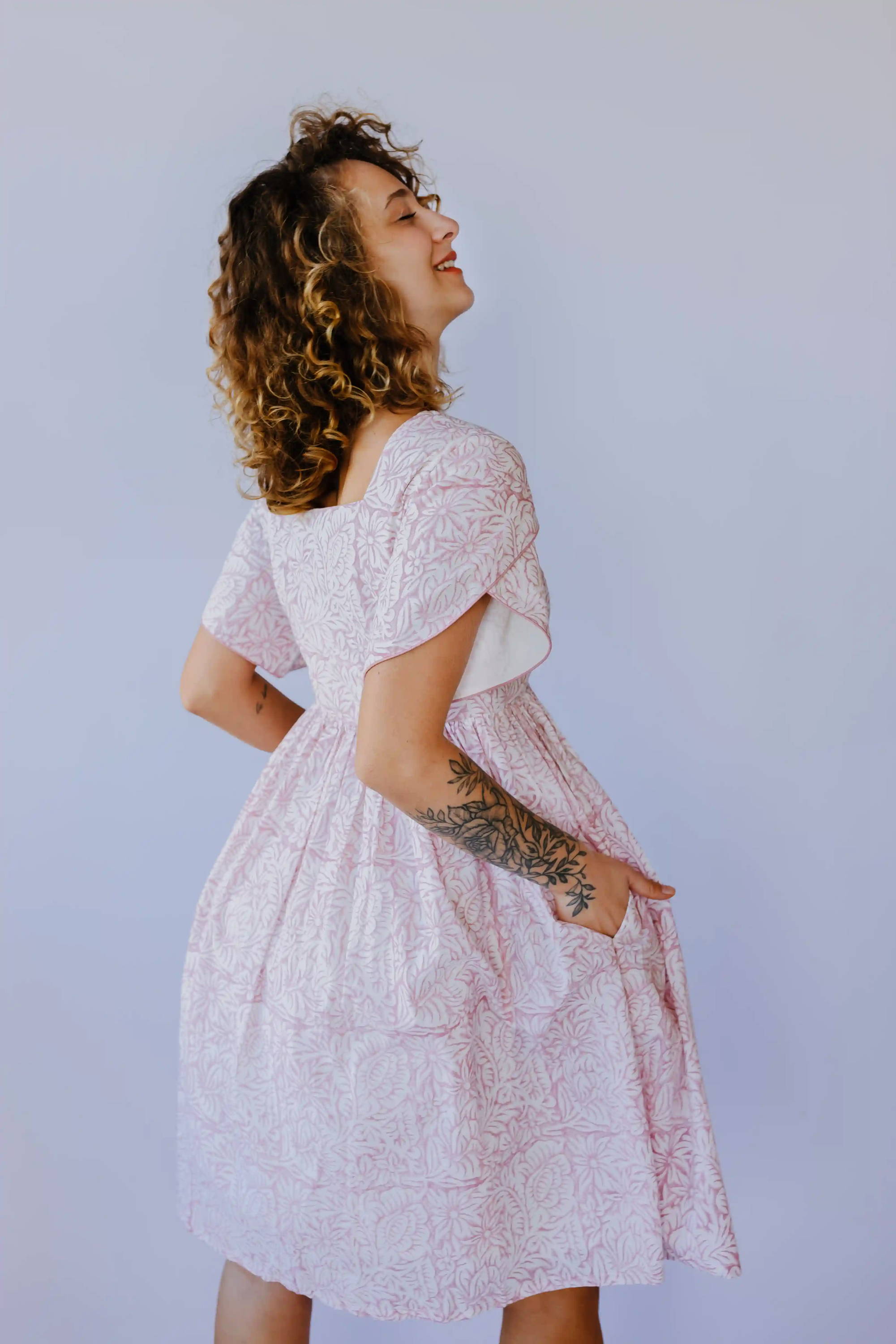 Never compromise your values again while you shop!
Step into a world of fun and sustainability with an inclusive offering of US Women's sizes 0-20 clothing! Transcend's bold, vibrant styles are crafted from plastic-free fabrics and coconut shell buttons. Your purchases are packaged using recyclable or biodegradable materials to provide the ultimate eco-friendly experience. Plus all artisans involved in creating your outfits get paid living wages - it doesn't stop there though – Transcend also contribute 2% of their revenue back like a warm hug for Mother Nature! Look good without feeling guilty about your impact on the planet or garment workers!
Customers love Transcend. Just take a look at a few of their reviews below -
"I am a huge fan of Transcend and I can't wait to add this sunflower mini dress to my collection. I preordered it as soon as I saw it online and I am so excited to receive it. I know it will be the perfect addition to my summer wardrobe and I can't wait to wear it." - Jennifer G.

"Sahar is so gorgeous and well made. I cannot get over how luxurious the silk feels when I wear it! The pockets are amazing, and the embroidery is stunning. The dress fit true to size for me. It's the perfect party dress!" - Tara

"I can't get over that this dress has digitized watercolor painting by a local Seattle artist. I feel so special wearing this piece of art!." - Garima C.

"I cannot get enough of this timeless, elegant dress! It's very warm, yet breathable, and also has insanely deep and functional pockets!! Do not undervalue these! The puff shoulders are such a sexy touch and the details in the flowers sewing is just hand-crafted with love, clearly..." - Ashley F.

"What more could you ask for? The dresses all fit like a glove, as if tailored for me. It was also a huge perk that they came with POCKETS! I'm so tired of carrying my phone, wallet, and keys out when I don't feel like carrying a purse. Not only did this dress have a pocket big enough to store all of these things, it did not create a bulge or ruin the delicate shape of the dress. Fit was true to size. Can't recommend it enough." - Farheena S.

"I bought this dress to wear on my summer vacay to Greece. Not only is this dress easy breezy but also comes with pockets. Perfect for on foot explorations!." - Alexandria A.

"I am so happy that I discovered Transcend and I am excited to see how they continue to grow and make a positive impact on the world. I highly recommend their products to anyone looking to make a change in their own shopping habits. The future of fashion is slow and I am proud to be a part of it!" - Kavya S.

"CANNOT WAIT to receive this beautiful dress. Honestly, I don't mind waiting a while to receive this unique piece and support slow fashion." - Linda P.

Where can you get Transcend?
Transcend clothing is sold on their website and available to rent at Armoire Style. Right now they are offering a one-time-only 50% discount + free shipping on their own site.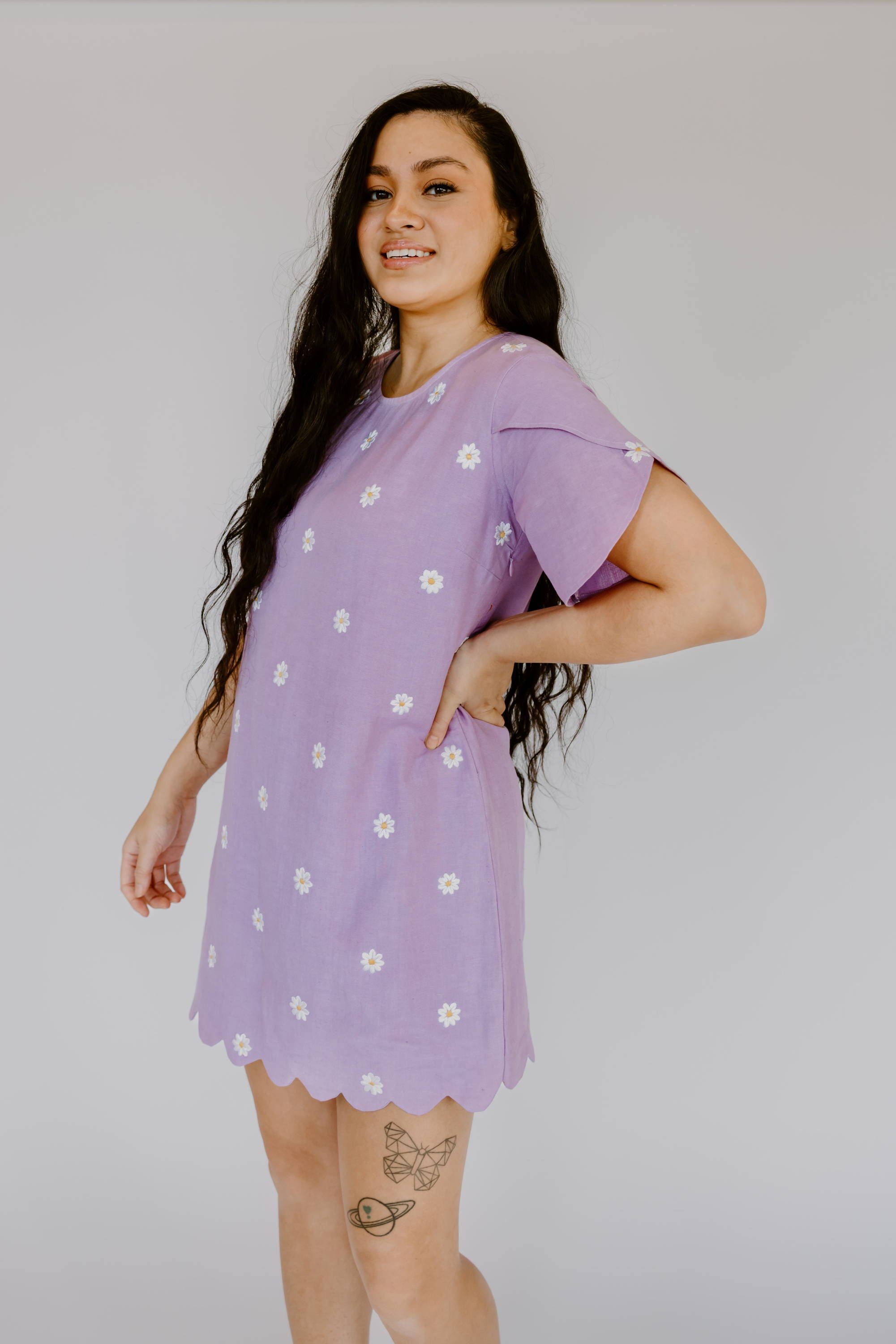 PLEASE NOTE: As a special introductory online exclusive sale, the company is now offering 50% off + Free shipping for a limited time only.
This deal won't last so act now to take advantage of this special offer.
Plus, if you aren't totally happy with your purchase, you can return them for a full refund . No questions asked!